Regular price
$599.00 USD
Regular price
Sale price
$599.00 USD
Unit price
per
Sale
Sold out
For Presenters, Performers, Lecturers
Pro Features with Fast & Easy Set Up
Lightweight Bodypack Transmitter
Intelligent Diversity Rackmount Receiver
134 dB of Dynamic Range, 24-Bit Audio
2240 Frequencies on Equidistant Grid
Set Up/Operate from Phone via Bluetooth
8-Hour AA /12-Hour Rechargeable Battery
Expandable to 90 Mic Channels/330' Range
The Sennheiser EW-D SK BASE SET with Bodypack Transmitter and No Mic combines pristine 24-bit digital audio with an impressive 134 dB dynamic range, equidistant tuning grid, and automated Bluetooth set up App for your phone to create a professional rackmount wireless microphone system that anyone can use. Though easy to set up and simple to operate, the system's pro-level feature set is well equipped to handle the needs of both first-time and experienced users alike, including presenters and lecturers working in business and educational settings, clergy in houses of worship, and live performers in theaters or on musical stages.
The EW-D's ultrawide dynamic range means that input-sensitivity adjustments on the transmitter are not required. Based on the company's higher-end Digital 6000/9000 wireless systems, the equidistant tuning grid removes the need for frequency coordination and enables you to operate up to 90 mic channels simultaneously. The UHF transmission greatly enhances range (up to 330') and the wide 56 MHz bandwidth gives you the ability to find a clean channel from 2240 available frequencies.
Intelligent Switching Diversity offers effective protection against RF interference, and the ultralow 1.9ms latency eliminates any noticeable lag when performing live. Additionally, Bluetooth connectivity enables seamless pairing and remote control from your phone via the Smart Assist App. All these features allow the EW-D to automatically handle mic levels and secure the most reliable signal for you in a matter of seconds—without the hassles that can make using a wireless system challenging.
This EW-D SK BASE SET is configured with a single-channel EW-D EM receiver and a robust, lightweight EW-D SK bodypack transmitter with a metal housing well suited for daily use on stage. The transmitter is offered without a microphone, so you can choose the one that best fits your application.
The transmitter pairs with the receiver via Bluetooth Low Energy from up to 120' away, enabling you to quickly pair the mic directly from the stage without having to bring it close to the receiver. The bodypack provides up to 8 hours of operation on two AA batteries or 12 hours with a BA 70 lithium-ion rechargeable battery pack (available separately). The L70 USB dual-charging station (available separately) is required for the BA 70 batteries.
The half-rack EW-D EM receiver with removable antennas is housed in a rugged, all-metal chassis built to withstand the rigors of professional use. It can either sit on a tabletop or be rackmounted for portable rigs and permanent A/V installs.
The receiver features a high-contrast, black-&-white OLED display that uses a streamlined menu system with a dedicated Escape button for quick menu navigation, even in low-light situations. The auto-scan function automatically seeks out the cleanest available frequency for you. If you prefer, you can also configure, control, and operate your system via Bluetooth, using the Smart Assist App installed on your iOS/Android phone/tablet—within a 120' range.
Note: The EW-D digital system is NOT backward-compatible with previous evolution analog systems.
Legendary Sennheiser Sound with Ultrawide 134 dB Dynamic Range
With an remarkable 134 dB dynamic range on the transmitter's input, the days of worrying about overloading your signal are over. The EW-D can handle a wide variety of sound sources, including loud vocalists and performers, connections to musical instruments, and even line-level signals from mixers, all without requiring any gain adjustment at the transmitter.
The ultrawide dynamic range yields impressive signal-to-noise performance and accurate transient response, which bring out all the nuances of your sound.
With 24-bit digital audio and a flat 20 Hz to 20 kHz frequency response, the EW-D delivers clear, accurate audio reproduction.
The system's ultralow 1.9ms latency is practically undetectable, helping musicians and vocalists to stay in the groove when performing live.
Lightweight Bodypack Transmitter for Hands-Free Presentations
The rugged, all-metal transmitter is equipped with a mute button that can be locked out and overridden from the receiver or a mobile device during a performance.
The transmitter quickly pairs with the receiver via Bluetooth at a distance up to 120', at the press of a button.
Wide Variety of Headset and Lavalier Microphone Options
Sennheiser offers a variety of headset, instrument cable, and lavalier microphone options to adapt your EW-D system as your needs evolve.
Presenters/Clergy/Lecturers/Educators:
The sweat-resistant, subminiature MKE 2 omnidirectional lavalier mic offers a pristine, broadcast-quality sound and is easy to conceal.
The unobtrusive ME 2 omnidirectional lavalier mic provides a forgiving pickup pattern that captures sound equally well in every direction. 
The ME 4 cardioid lavalier mic cardioid lavalier mic offers a narrower, feedback-resistant pickup pattern for louder events.
The ME 3 cardioid headset mic provides enhanced speech clarity for lectures and presentations.
Guitarists/Keyboardists:
The CI 1 instrument cable lets you connect the bodypack transmitter to a guitar, bass, or keyboard.
Easy-to-Use Receiver with Fast and Intuitive Interface
The EW-D EM receiver offers intuitive front-panel controls and a high-contrast OLED with meters for RF, battery status of the associated transmitter, and audio output that make setup a breeze.
The auto-scan function automatically seeks out the cleanest available frequency for you.
The back panel houses a balanced XLR output and an unbalanced 1/4" output for direct connection to any PA system or mixing board.
The two detachable 1/4-wave dipole antennas on the back of the unit can be upgraded for improved RF performance.
The unit comes with a kit for rackmount installation and a universal power supply with EU, US, and UK adapters.
Equidistant Tuning Grid—Solid Wireless Reliability with More Channels
The EW-D features an equidistant tuning grid that equally spaces 2240 frequencies across the wide 56 MHz bandwidth to prevent disruptive intermodulation issues that occur when multiple transmitters operate in confined spaces.
The equidistant grid also enables you to maximize your channel count and operate up to 90 mic channels simultaneously without having to worry about frequency coordination and channel groups—making your setup easier, even in congested RF environments.
The EW-D uses Intelligent Switching Diversity technology to mount a superior defense against multipath and other anomalies that cause RF noise. The system compares incoming signals on two independent antennas and receiver circuits to ensure optimal wireless quality. The receiver switches between antennas only during header data as to never affect the audio information.
The EW-D operates in the UHF band, far away from potential Wi-Fi interference in the 2.4 GHz band.
Control from Your Phone with Smart Assist App—No Wireless Expertise Required
With the Smart Assist App (free download available separately) installed on your Android/iOS phone/tablet, the power of Bluetooth Low Energy connectivity puts full control of the EW-D right in the palm of your hand. Use your mobile device to connect via Bluetooth for efficient operation and monitoring of your system—with no wireless expertise required.
Take advantage of a remarkably fast automated setup of receivers and transmitters, automatic and manual frequency allocation, muting, battery status, and channel naming to help keep systems organized—all only one tap away.
Aside from instant access to all system settings, there is also a support hub with video tutorials and detailed manuals to help get you started.
When working with multiple systems, the App provides access to all system settings, centralizing control and eliminating the need for complicated menu navigation on each device. Wireless channel naming helps to keep systems organized.
Up to 16 mic channels can be handled remotely via a single mobile device. Additional channels can be controlled via additional phone/tablets with a maximum of 16 channels per device. 
If your phone is not available, you can fully operate your system using the buttons on the receiver.
Maximize the Wireless Reliability of Your System
The rear-mounted, 1/4-wave detachable antennas can be upgraded to longer, 1/2-wave dipole antennas (available separately) for added range and reliability.
Antennas may not perform optimally when rear-mounted inside a metal equipment rack. Using the AM 2 antenna front-mount kit (available separately) gives you the option to mount the two antennas on the front of your rack, maintaining line-of-sight between the receiving and transmitting antennas for even greater connection reliability—this option is available only when mounting just one EW-D EM receiver per 1 RU rackspace.
Adding the ADP UHF passive/directional remote antennas (available separately) to your system enables you to position the antennas closer to your transmitter and orient them for maximum coverage, achieving professional-quality RF signal reliability with virtually no dropouts.
For larger, multi-receiver systems, the EW-D ASA active antenna splitter (available separately) splits the signals from the two antennas (now connected to its rear panel), delivering the RF signals to up to four receivers in a rack. The Unit also provides DC power to the four receivers, for less clutter in your rack.
Add Functionality with a Handheld Microphone
The EW-D SKM-S handheld transmitter is available with a variety of mic capsules for presenters and performers who prefer the flexibility of a handheld microphone—capsules include the MMD 845, MME 865, MMD 935, MMD 945, MMD 42, MM 435, ME 9004, MD 5235, ME 5004, and Neuman KK 204 to name a few.
System
| | |
| --- | --- |
| Wireless Technology | Digital UHF |
| Number of RF Channel Frequencies | 2240 |
| Included Transmitters | 1 x Bodypack |
| Diversity | Intelligent Switching Diversity |
| RF Frequency Band | 552 to 607 MHz |
| RF Bandwidth | 56 MHz |
| Frequency Step Size | 25 kHz |
| RF Channel Scanning | Auto-Scan |
| Max Operating Range | 328.1' / 100 m (Line of Sight) |
| Max Transmitters per Band | 90 |
| Built-In Recorder | No |
| Bluetooth | 5.1 |
| Bluetooth Operating Distance | 120' / 36.6 m (Transmitter Sync, App Control) |
| Sample Rate/Resolution | 24-Bit |
| Latency | 1.9 ms |
| Dynamic Range | 134 dB |
| Encryption | None |
Receiver
Receiver Type

Tabletop / Rackmount

Mounting Options

Rackmount, Tabletop

Rackmount Size

1 RU (1/2 Rack)

Antenna
2 x 1/4 Wave Rod, BNC (Rear-Mount)
Number of Audio Channels

1

Audio I/O
1 x XLR 3-Pin Male Balanced Output (Lockable)
1 x 1/4" TRS Female Unbalanced Output
Gain Range

-3 to +42 dB (3 dB Steps)

Audio Output Level
XLR Output:
+18 dBu (Balanced)
1/4" Output:
+12 dB (Unbalanced)
Frequency Response

20 Hz to 20 kHz ±3 dB

Word Clock I/O
None
RF Output Power

10 mW (EIRP)

Power Requirements

AC/DC Power Adapter

AC/DC Power Adapter

11 to 13 VDC at 300 mA (Included)

AC Input Power

100 to 240 VAC, 50 / 60 Hz

Display & Indicators
1 x Backlit OLED (AF Level, Frequency, Mute, RF Level, Transmitter Battery Status)
Housing

Metal

Operating Temperature

14 to 131°F / -10 to 55°C

Operating Humidity

5 to 95%

Dimensions

7.4 x 1.7 x 8.3" / 189 x 44 x 212 mm

Weight

2.2 lb / 1 kg
Transmitter
Transmitter Type

Bodypack

RF Output Power
10 mW (ERP)
Up to 10 mW (EIRP)
Audio I/O
1 x 1/8" / 3.5 mm TRS Female Input (Lockable)
Included Cable Connector
None
Muting

Mute Switch

Audio Input Level

2 to 4.35 V RMS

Auto-Level Control

No

Sync Method

Bluetooth

Antenna
1 x Flexible Whip, Fixed (Beltpack)
Power Requirements

Battery

Battery Type
2 x AA (Included)
1 x Sennheiser Battery Pack (Not Included, Replaceable)
Approx. Battery Life
8 Hours (Alkaline)
12 Hours (Sennheiser Battery Pack)
Display & Indicators
1 x LED (Mute)
1 x LED (Sync)
Housing

Metal

Dimensions

2.5 x 3.1 x 0.8" / 63 x 80 x 20 mm (without Antennas)

Weight

4.2 oz / 120 g (without Batteries)
Share
View full details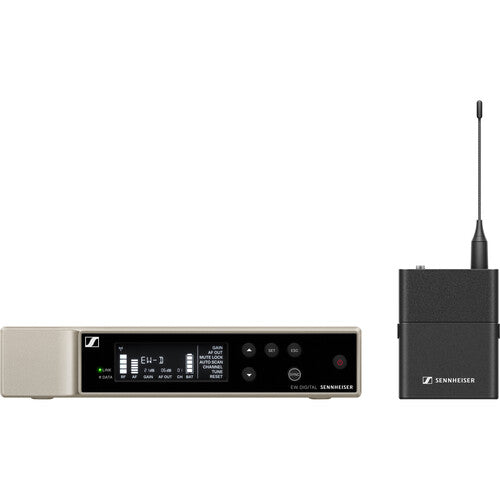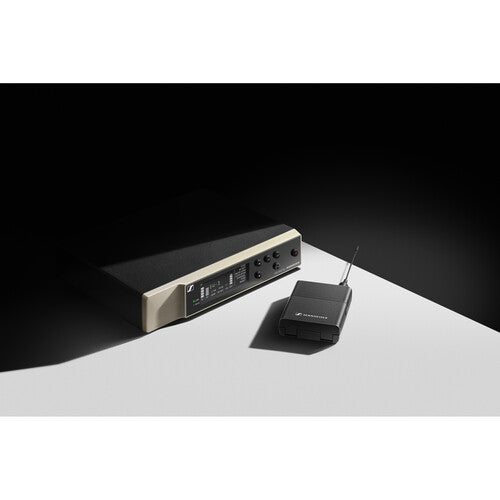 Image with text
Pair text with an image to focus on your chosen product, collection, or blog post. Add details on availability, style, or even provide a review.
Free Shipping

Pair text with an image to focus on your chosen product, collection, or blog post. Add details on availability, style, or even provide a review.

Hassle-Free Exchanges

Pair text with an image to focus on your chosen product, collection, or blog post. Add details on availability, style, or even provide a review.